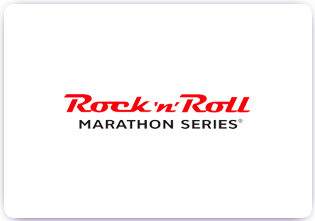 Rock & Roll Marathon
You can race in some of the country's coolest cities and help kids with critical illnesses by being part of the Rock 'n' Roll Marathon Series!

Give Kids The World Village has partnered with the Rock 'n' Roll Marathon in a series of races around the U.S. It's your chance to check out the scene in places like Nashville, Seattle, and San Diego, while helping the Village provide dream vacations for critically ill kids and their families.

It's easy to join, just just pick a location and a date:


Liverpool, UK: May 19-20

San Diego, CA: June 2-3

Seattle, WA: June 9-10

Chicago: July 21-22

Virginia Beach, VA: July 1-2

Philadelphia, PA: September 15-16

San Jose, CA: October 6-7

Denver, CO: October 20-21

Los Angeles, CA: October 28

Savannah, GA: November 3-4

Las Vegas, NV: November 10-11

San Antonio, TX: December 1-2


Then pick the type of race you want to run:


Rock & Roll 10K: The 6.2 mile course is the perfect distance for runners of all skill levels.

Rock & Roll Half Marathon: This amazing 13.1 mile course is a runner's delight.

Rock & Roll Full Marathon: This amazing 26.2 mile course is a runner's paradise.

All runners who reach their fundraising minimum receive free registration to the race of their choice, a fundraising and training coach, and a race experience that's best-in-class.

Visit the event site for more information, and register today!