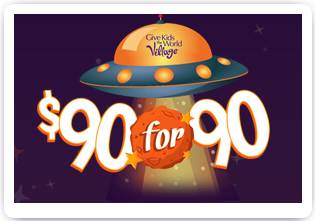 $90 for 90 Campaign
The "$90 for 90" campaign celebrates Henri Landwirth's 90th birthday and honors a lifetime of service. Henri created Give Kids The World as an escape for children with life-threatening illnesses — a place filled with the joys of childhood, like parties and games and, of course, ice cream.
To honor Henri, the Ice Cream Palace will be renovated and renamed "Henri's Starlite Scoops." The building will serve as a permanent symbol of Henri's commitment to making children smile.
The name is a nod to The Starlite Motel, the motel Henri managed early in his career. During the Mercury era, the Starlite was popular with astronauts and journalists, several of whom became supporters of the Village and lifelong friends with Henri.

Want to make a difference in the life of a seriously ill child?
Then make a donation to our "$90 for 90" campaign. Your gift of $90 (or $900, or $90,000!) will support Henri's Starlite Scoops, the Village's new ice-cream parlor, named in honor of Founder Henri Landwirth. We've set a goal of $5 million to cover construction and operating costs in perpetuity.

Learn more, or make a donation today!